Great Things Studios Awarded Among Top Video Production Companies in Canada by Clutch
Great Things Studios knows how to take your already great business and take it to the next level. Videos can transform a business in many ways; it can tell your message, define your image as a company, and increase your exposure to clients.
Our main service is video production; however, we also offer digital strategy and social media marketing help. We also have experience working in a wide range of industries and with clients of all sizes.
GTS's main objective is to transform your website into your best salesman using the power of videos throughout the customer decision journey.
We use in-depth funnel analysis to understand who your target audience is and how to reach them at the right time with the right content.  We not only focus on the leads ready to buy now, but we also make sure to nurture any future clients by building video stacks that will satisfy their curiosity and answer their questions.

Clutch can find agencies and help their company grow more and more every day. Clutch is a B2B ratings and reviews firm in Washington, D.C which connects service providers to clients through their online company profiles.
Each profile is equipped with information about the company and reviews from real, past clients. Look at the great things our clients have to say about us.
"They're a very easy company to work with. We're very satisfied with their work." -Learning and Development Specialist at a Healthcare Organization
"Video production is their passion, and it is visible in the work they do." -Lucie Neubauerova, Communications and Trade Marketing Manager at Amcor Capsules
"So easy to deal with; they were patient and had a clear understanding of what the outcome should be." -Sonja Berg, VP at Cima-Pak
Clutch has grown tremendously to include two sister sites: The Manifest and Visual Objects. The Manifest helps demonstrate our value by highlighting a past project and some of our clients. If you want to get an idea of Great Things Studios in a more visual sense, take a look at Visual Objects. Visual Objects displays creative work by publishing a company's portfolio.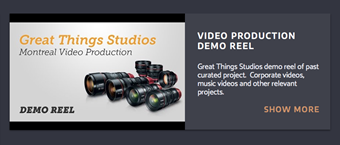 "We're proud to be part of this amazing community of top video producers and video marketers in Canada. We'll keep on pushing the boundaries and help our clients grow their business and crushing it!" -The team at Great Things Studios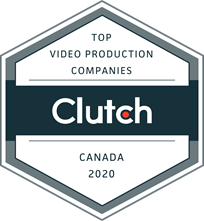 To request a quote, live chat, or get in touch for any other reason, take a visit to our site.