Great Things Studios produces strong customer satisfaction and stunning videos
On average, users spend 88% more time on a website with a video. With so many distractions, customer retention is more important than ever. Great Things Studios can help you accomplish your goals and increase your bottom line. As a small video production agency headquartered in Montreal, we will be a seamless addition to your team. Our commitment to customer satisfaction and superior product has resulted in a 5-star rating on Clutch. Take a look at our service offerings, each will help you increase your revenue depending on your business goals.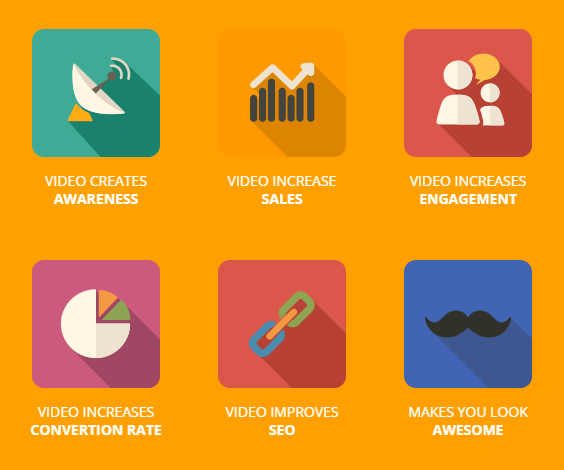 Clutch is a B2B platform that quantifies a firm's value using verified client reviews. Measuring ability to deliver satisfactory product and expertise in the field, customers say we are a market leader for video production in Canada. Without these verified reviews, Clutch would not be able to authentically rate service firms. Thank you to our customers who have left reviews, it truly helps us improve to provide a better service to you and your business!
In our most recent review, Amcor Capsules asked Great Things Studios to produce customer testimonials. In the review we were praised for our timeliness, professionalism, and passion for video production. Take a look at the review below:
Every time we post one of the customer testimonial videos on our Social Media, the feedback grows significantly. The feedback from the stakeholders was very positive. They commented on the videos as very interesting and professional.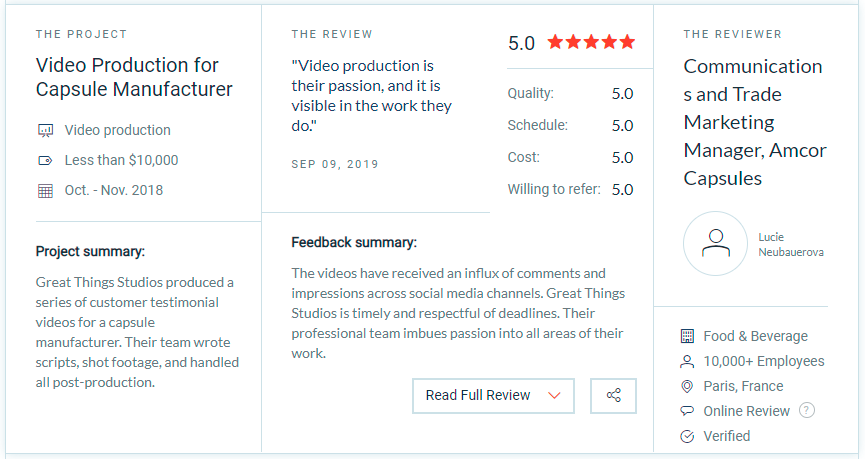 They care about every single detail. I've never felt any unnecessary pressure from their side on the number of comments or feedback, they've always been extremely helpful. This is what distinguishes them from other vendors I've worked with.
-Lucie Neubauereova, Communications and Trade Marketing Manager, Amcor Capsules
In addition to Clutch, you can discover our team and our work on The Manifest and Visual Objects. The Manifest is a business development focused B2B platform that also provides shortlists of top performing firms. The Manifest profiles include past clients and an in-depth analysis of product offerings and past work. Similarly, Visual Objects features our portfolios of past work, giving you an opportunity to dive into our projects and determine the best fit for your business needs.
We would like to thank Clutch for their recognition of our hard work, we sincerely appreciate our continued partnership with them. We also are excited to welcome new clients, contact us today to get started ameliorating your business using the power of video marketing!