7 Best apps to telework and stay in touch with team and clients
Last week I release on linkedin a video about the best apps to telework!  Here's the video link below and the transcript for the ones who work from home these days.
So this week, you started telework? Or you want to start telework but it's a real nightmare, we've found some perfect video solution for your organization to stay connected to your team and your customers. Stay tuned!
The best video apps to work from home
Hi everyone, I hope you're doing great. This is Ntchi from Great Things Studios, and today I wanted to share some tips and tricks with you guys on how you can keep on working and performing using videos during this crisis time. As you may know, a lot of you guys are working from home now because of the COVID-19, and I wanted to do a little research for you guys and show you how we can, how you can keep communicating with your teams, and your clients using the internet, technologies, and most of all, videos.
Video communication is 10x more effective than regular emails
When you use videos instead of a bland email, You're 10 times more effective, why? Because you can convey tone of voice, facial expression, and you save time instead of typing an email and rewriting it 10 times, doing a spell check and all this stuff, you can just talk. You talk as if you were in front of your team, in front of your client, it's way more effective.
All right, let's jump right into it. So in this video, in a few minutes, I will save you hours and hours of research of what type of tools you can use to communicate with your team and your clients, okay? There are three types of tools that you need to use during these times to perform during tele work.
First category of tools, team communication using emails. These are the tools that will allow you to embed videos inside your email. This way you can talk to your team and your clients. It's way better than sending those bland written emails that nobody wants to read. Conferencing tools for conference and meetings and recruitment. So if you are an HR and you still need to hire people, there are ways now to do it online.
So let's jump right into it, let's dive deep.
Okay, so, I did a little grid with some of my research. There are five tools that I really like when it comes to sharing, messaging with your team and your clients, okay? So Loom, Soapbox, Vidyard, Bonjoro and Bombbomb. These five apps are pretty similar in what they do. They have different features, pros and cons. But at the end of the day, they all do the same thing, it's sharing videos. If you're interested in getting this grid, it's not final, this is like something that I did, it's my first version. I'll share a link or you can just email me, inbox me in LinkedIn and I'll share it with you. So this way you'll have way more information. So let's do a quick runthrough of these apps.
Loom: screen share with webcam and more
So the first one, Loom. Loom is a very interesting capturing software and actually, it's the one that I am using right now to share my screen, and you can see me in the head bubble here right now. I'll show you something right there, look at this. See, you can write on the screen. It's a pretty fascinating app. It's a one of my favorite. With this one you can do screen capture, you can communicate with your team and your clients. So let's say you're in sales for instance, and you just finished your proposal, you can embed this video in an email and explain the proposal to your client for instance. Same thing if you want to share communication with your team. How to do something, go through processes. It's the perfect software for that. It also has a Chrome extension and desktop app.
Bonjoro: The mini video CRM
There's also Bonjoro, Bonjoro is pretty much the same thing. It's a software also that allows you to record yourself. What this one has that the other ones don't have, it's like a mini CRM. So not only you can create the videos, share them with your team and client, but this one embeds with your current CRM. So let's say you're using Salesforce, Marketo, ActiveCampaign, Drip, all those very advanced CRM, you can link them to your current marketing workflow which is quite interesting.
There's also Vidyard Govideo. Vidyard Govideo is a Chrome extension from the very famous video marketing company Vidyard. And this one works as a Chrome extension. You simply download it and can record your videos straight from Chrome and send it via a customized link embeded in an email. You can send it on LinkedIn, Facebook Messenger, WhatsApp, any messaging platform. That you're currently using.
And now the last one and not the least is Soapbox from Wistia. Soapbox from Wistia. This one is one of my favorite one because it has one of the most advanced online editing capabilities. Which is amazing. This one records two track at once. It records your webcam and your screen capture, and you can edit them online straight. Which is pretty amazing, I've never seen something like that. It's probably one of my favorite one after Loom. Like I said, this is a little grid that shares the benefits, some of the features of each of these apps. You can go through it, I'll send you a link, don't worry.
Important features in video tools
Something that is important with these apps, one of the most important features is the ability to embed the video straight in the email. Now, the truth about that is that there is no email provider that allows you to play videos straight inside the browser.
So what you want to do is to have a software that allows you to embed a thumbnail of the video. With the thumbnail, it'll entice the people to click on it. Personally, this is one of my main requirements. This one is the first in the list here. Email embed feature, and they all have it. And something that Loom and Bombbomb have that differentiates them from the other one is animated previews. So it creates an animated GIF that is embedded inside the email. It makes people want to click more when they see your face moving in an email. It is pretty cool.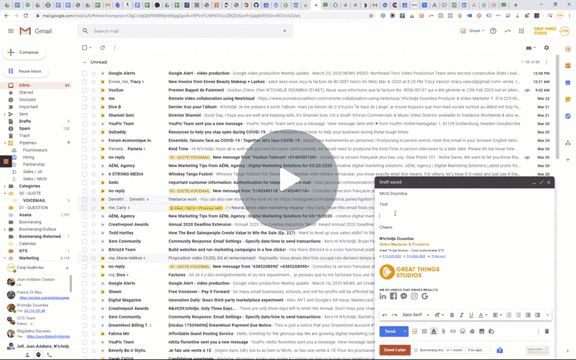 Now, this is done for the first category. These apps will allow you to communicate with your team and your clients so you can stay in touch. You can share anything that you want with them and when they watch the video, you'll get a notification. That's a very important feature as well.
Now, the second category, conferencing. You want to do a meeting with your team, meeting with clients, but you can't go. You can use two tools, there's hundreds of these tools out there. But the two most popular are, Google Hangouts, Microsoft Teams, and Zoom.
So I'll show you Google Hangout real quick, which is a very popular platform, If your company's using the G-Suite, the G-Suite ecosystem, this is the best solution for you. If you're using Office 360, use Microsoft Teams, that will be the best options for you.
Zoom: Video conferencing for teams
Or you can also use Zoom. Zoom is one of the biggest video conferencing platform as of now. And they also have a free plan. When you go in plan and pricing, they have a free solution for smaller companies. If you are at an enterprise level or SMBs, you might want to use the pro and business packages.
VidCruiter: Online video recruitment
If you are in HR and you want to do a recruitment online, this one is a bonus. My wife specializes in HR and she showed me this platform which is quite fascinating. I didn't even know it existed, it's called VidCruiter. So for everyone working in HR recruitment, talent acquisition, this is probably the best platform for you guys right now. VidRecruiter allows you to not only do live, live interviews, face-to-face as if you were using Skype or Hangouts, but something that is fascinating for the one that do a lot of hiring is that you can use what they call prerecorded video interviews. What are prerecorded video interviews? It's a sequence of questions that you ask in a video format, and your talent will answer them back as a video. So they can use either their browser or their cellphone to do that which is quite fascinating. You can send them in batch, you can send them to 100, 200, 300 people and it will fully automate and filter your recruitment process which is pretty cool.
So these were some tips and tricks, some software that you can use to better communicate with your teams, and clients during those times where we have to do tele work.
If you need help, if there's is anything that we can do to help your companies to go through these hard times, don't hesitate, you can reach us, ask us any questions that relate to video production. How you can use videos to improve your business, to communicate and stuff like that, it'll be a pleasure to help.
And as you know, just a quick stat. Did you know that since last week, the engagement on most social networks increased by 60%?
60%! So I guess this is pretty much the best time to push videos on the internet, to push videos to your customers, to push videos to your teams to communicate and let's bring your business to the next level using the power of videos. So that's it for today, stay safe, stay healthy.
Since you have to work from home, it's less time in the traffic. Use this time to spend more time with your loved ones and have fun. All right, take care, bye-bye!